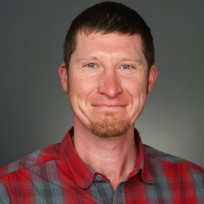 BIOGRAPHY
Bart is currently the director of Cooperative Extension in Transylvania County. He works with 5 amazing employees to provide programs in 4-H, youth leadership, food and nutrition, livestock, local foods, natural resource management and all areas of agriculture.
He received a Bachelor's in Biology with a focus on forest ecology from Ball State University and a Masters in Crop Science from NC State. He has 12 years of experience with community resource development, including 3.5 years as a Peace Corps Volunteer in El Salvador. He has always been focused on assisting private land owners with protection of ecologically sensitive areas while keeping farmland profitable.
Q & A
Q: What are your job duties for Transylvania County? 
As the director of Cooperative Extension I work with my staff to provide educational programs to the citizens of Transylvania County. These programs focus on experiential learning in areas such as agriculture, 4- H and youth leadership, food and nutrition, natural resource protection, and a wide variety of related areas. Personally I work with public and private land managers to take advantage of their land in the most sustainable way possible. For example, here in Transylvania County we have the unique privilege and responsibility of having the headwaters of the French Broad River. This river is so important to the livelihood and well being of so many people in Transylvania County, and well beyond us. The practices put into place by our land managers directly affect the quality of this river, and therefore, the lives of those who depend on it. I enjoy working with people of all ages to understand how our actions affect the quality of the natural resources all around us. In the end, I hope that our educational programs help the people of Transylvania County feel connected to the land that sustains them every time they eat, go shopping, or go for a stroll in the woods.
Q: What makes Transylvania County so special to you? 
I don't even know where to begin here. This county has a very rich agricultural history and so many natural treasures. I'm honored that I get to work with the farmers and land managers in this county to take advantage of our natural resources in the most sustainable way possible. We have a diversity of landscapes that support a huge diversity of farming activities, so it's a fun challenge to keep up with research based information in a wide variety of areas.
Q: In which ways do you hope to improve Transylvania County? 
It is our goal to improve Transylvania County by providing everyone with high quality educational programming that is relevant to their needs. We provide citizens with a wide variety of positive leadership experiences and volunteer opportunities. We hope to create empowered and informed citizens who are leaders in this community and take responsibility for making a better place to live and work.
Q: Do you have any favorite things that you like to do in Transylvania County? 
I'm pretty darn happy walking through the woods holding my wife in one arm and my daughter in another.