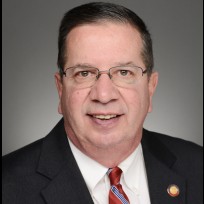 BIOGRAPHY
David Guice served two terms, from 2000 – 2008, as County Commissioner and was elected again in 2018. He previously served as both Chairman and Vice-Chairman of the Commission. After serving his earlier terms, David was elected to serve in the NC House of Representatives representing District 113 which includes all of Transylvania County.
David is a graduate of TC Roberson High School in Buncombe County and holds a Bachelor's Degree from Mars Hill University. During his professional career, he worked over 30 years for the NC Department of Corrections until his retirement in 2009. While serving in the NC House, he returned to work at the newly consolidated Department of Public Safety as the Director of Community Corrections at the request of Governor Beverly Purdue. Upon the election of Gov. Pat McCroy he was named Chief Deputy Secretary of the Department of Public Safety where he was responsible for operations and oversight of Community Corrections, Prisons, Correction Enterprises, Combined Records, Staff Development & Training, Engineering, Special Operations & Intelligence, Rehabilitative Programs & Services, Governors Clemency Office, Inmate Grievance Resolution and Administrative Functions to include the following; budget, fiscal and legislative matters. Early in the McCroy administration he was also given the oversight of Juvenile Justice and his official title was changed to Commissioner of Adult Correction and Juvenile Justice. He continued his work under the leadership of Governor Roy Cooper until his retirement in November, 2017. As Commissioner, David traveled across North Carolina and the United States helping other states implement changes to their criminal justice laws.
David and his wife, Kerry, have two grown children, Colby and Lindsey, and three grandchildren. Colby and his wife, Meredith, are both teachers in Transylvania County, and Lindsey is Director of the North Carolina Innocence Inquiry Commission in Raleigh. Throughout his years in Brevard, David has been very active in many community activities, his church, and civic organizations and has served on numerous boards locally, as well as on the state and national level. David and his wife also owned and operated a local restaurant for 20 years in Brevard.
Q & A
Q: What makes Transylvania County so special to you?
I grew up in Buncombe County and moved to Transylvania County shortly after beginning my career with the North Carolina Department of Corrections. I met my wife, who is a native of Transylvania County, in the local courthouse and we raised our family here. Both of our children are graduates of Brevard High School.
While Brevard offers all of the wonder of a small town, there is an abundance of natural resources providing a wide variety of recreational activities. We have many exceptional opportunities to experience varied cultural events that rival those in large cities and boast of our local talent, some who have achieved national fame throughout our history. When I see the book by Dr. Seuss Oh, the Places You will Go, I can't help but think he knew some of Transylvania's own who enjoy a small town climate but strive to achieve great success in so many ways because that is what I see in our community.
Q: In which ways do you hope to improve Transylvania County?
Infrastructure and economic development and job opportunities: The string of cars I see leaving Brevard early each morning gives me great concern. I want to make business recruitment a top priority for our county.
Q: Do you have any favorite things that you like to do in Transylvania County?
Having spent much time in Raleigh during part of my career, I would say my favorite thing to do in Transylvania County is just to live here. I never tired of seeing Raleigh in my rearview mirror when we came home on weekends, but that final trip in a moving van was my favorite one. The natural beauty this county offers is beyond anything I have ever seen anywhere else, and being able to drive through a town from one end to the other in under ten minutes is amazing, especially when there is so much neatly packed into our downtown. I certainly enjoy serving those who live here and spending time talking with folks about their concerns as I stroll downtown, at a table while having dinner with my wife, in the hardware store or a grocery store. That's what living in a small town is all about.