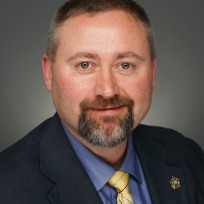 BIOGRAPHY
Sheriff David Mahoney was sworn in as the 27th Sheriff of Transylvania County on December 5, 2006 in the Main Courtroom of the Transylvania County Courthouse and has since been elected to a second and third term.  

Sheriff Mahoney graduated from Brevard High School, completed general education at NC State University, and graduated from Asheville/Buncombe Community College with an Associate of Applied Science Degree in Law Enforcement Technology. He is an active member of Old Toxaway Baptist Church and is a member of the following civic organizations: Pisgah Forest Rotary Club, The Center for Dialogue Advisory Board, Criminal Justice Partnership Plan, SAFE (Shelter Available for Family Emergency) Board of Directors, Salvation Army Advisory Board, Board of Directors of Boys and Girls Club,VISION Transylvania Board of Directors, Fraternal Order of Police, and The Fellowship of Christian Peace Officers.
Sheriff Mahoney serves as Sergeant at Arms for North Carolina Sheriffs' Association and also represents Western North Carolina Sheriffs as an elected member of the North Carolina Sheriffs' Education and Training Standards Commission.

Sheriff Mahoney started with the sheriff's office in July of 1991 and has served as a detention officer, telecommunicator, patrol deputy, patrol shift supervisor, criminal investigator, special response team (SRT) member, and Sheriff. He holds Criminal Investigator Certification as well as Advanced Law Enforcement Certification. Also a 2008 Graduate of the Sheriffs' Leadership Institute at the Fuqua School of Business at Duke University. Sheriff Mahoney has been awarded the advanced Law Enforcement Certificate and the Advanced service Award, the highest two awards attainable by a law enforcement  officer in North Carolina.
Q & A
Q & A Coming Soon