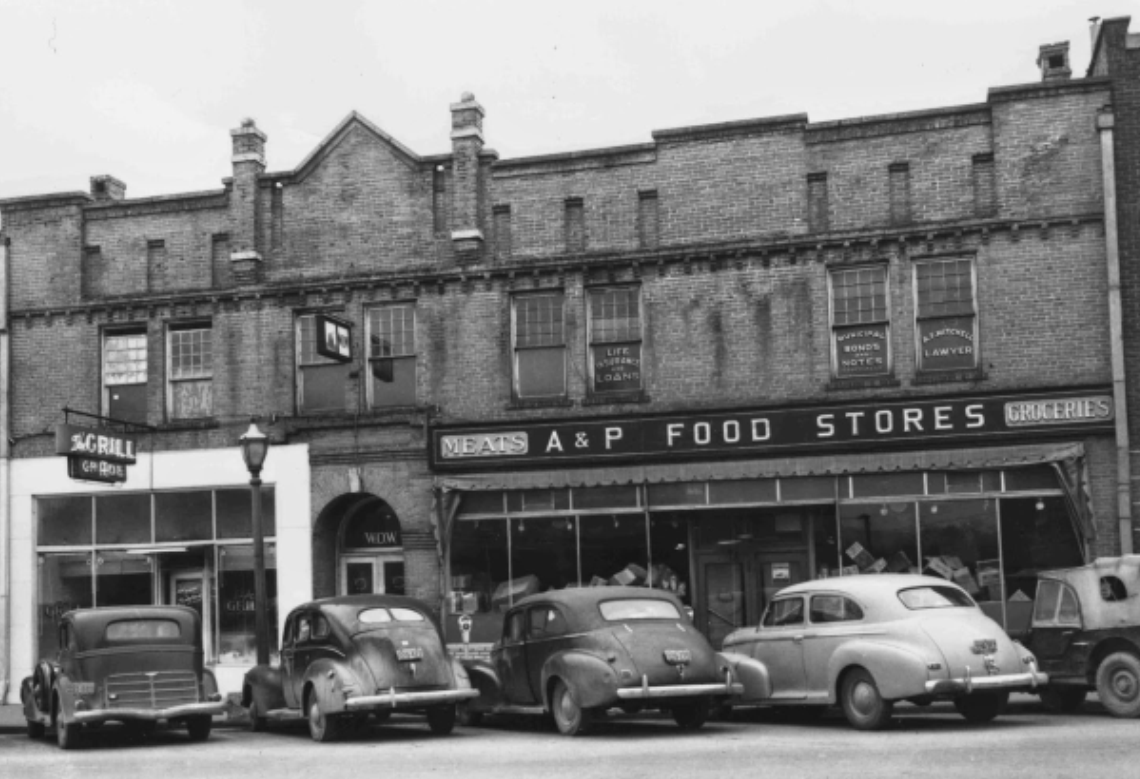 The Fraternity Building was an impressive building that looks significantly different today than it did in the first half of the twentieth century. Before it was altered after 1952, the façade possessed a grand parapet roofline and center gable, creating a tower-like impression.
Built in 1907, the Fraternity Building has served many purposes in its more than one hundred year history. Early uses included a jewelry shop, an undertaker/furniture business, and a post office. The post office was in the building until 1926. The mayor's office was also here in the early twentieth century. In July 1912, the United Daughters of the Confederacy rented a room in the Fraternity Building to serve as a community library. Although they moved the library by November of that year, the Fraternity Building still hosted the first community library in Transylvania County. Through the 1940s and 1950s, there was an A&P Food Store and restaurants. There was a Masonic Hall on the second story, which was used to hold meetings, sometimes even for "secret societies".
All that remains of the original façade are the arched entry and second floor windows. As of 2017, Bracken Mountain Bakery, Children's Emporium, and Local Color are located on the ground floor of the Fraternity Building.
Key Facts
Builder: Dunn's Rock Building Company (Masonic Lodge)
Owner: John Maxwell
Year: 1907
Architectural Style:
Address: 36 - 38 - 42 South Broad Street, Brevard, NC 28712
Share Your Story
Do you have a memory of the Fraternity Building?  Share it with us!
Email Kalen Lawson to share your story.
Partners
Presented in partnership with...