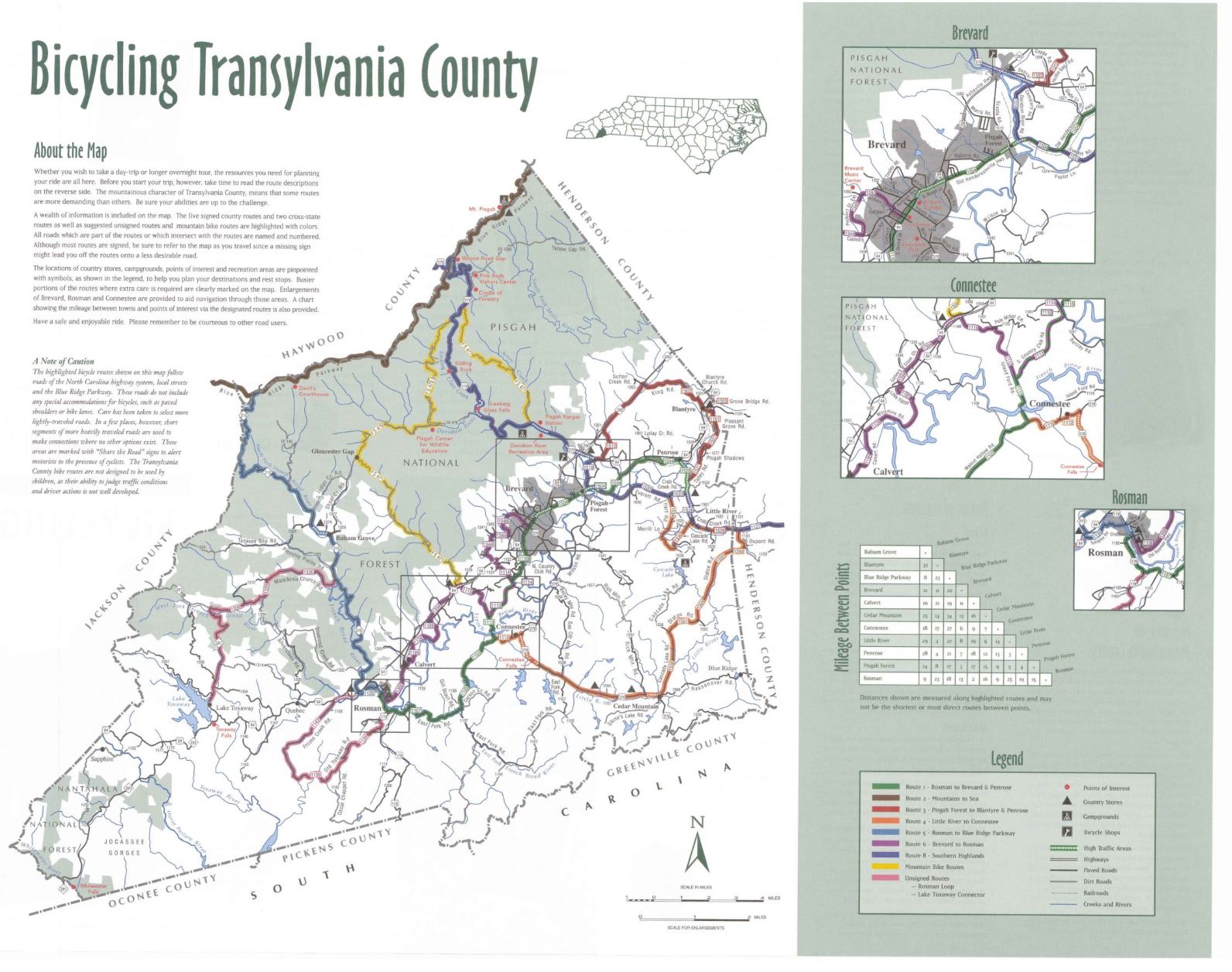 The Transylvania County Planning and Community Development Department is working with Alta Planning to create a county-wide comprehensive bicycle plan. The goal of completing a comprehensive bicycle plan for Transylvania County is to identify a network of interconnected paved paths, bike lanes, pull-offs and other bicycle infrastructure that, when fully implemented, will provide greater safety, health, connectivity, and alternative transportation routes between communities in Transylvania County and throughout the region.
---
Meetings of Stakeholder's and the public will help the plan represent varying views on bicycle infrastructure in Transylvania County. The public meetings are designed for the public to provide feedback on the types of bicycle infrastructure (such as, paved shoulders, bike lanes, pull-offs, multi-use paths etc.) that people want to see and where they would like to see these treatments. 
Potential benefits of completing and implementing a comprehensive bicycle plan in Transylvania County:
Safety - Paved paths, intentional bike lanes and bike pull-offs would improve the safety of motorists and cyclists on the roads most used in Transylvania County.
Health - Identifying and planning for increased transit routes through a bicycle plan, and ultimately the implementation of that plan, will improve the health of Transylvania County residents by providing additional free exercise opportunities and encouraging the use of paved paths as transportation routes.
Connectivity - Connecting Cedar Mountain, Rosman, Penrose and Brevard through bike lanes and paved trails would connect these economic nodes and potentially spread out the routes used by on-road cyclists to reduce the congestion seen on some roads.
Alternative Transportation - In 2016 the average cost of owning and operating a vehicle was $8,558 a year or 27% of the average earnings for Transylvania County residents. Identifying and building additional bike routes and paved paths throughout the county will support transportation alternatives and address a need for the 26% of those who live and work within the county and make less than $1,251 per month which could make car ownership cost prohibitive (2011 census data). It would also provide routes for those wishing to bike to work or use active transportation.
While there are designated on-road bicycle routes and mountain bike trails in Transylvania County, there is a shortage of bike paths for those who would like to ride but don't feel safe on the road or on a rocky path. Potential locations for more paved paths to connect neighborhoods and outlying communities with the existing path in Brevard would be one of the great benefits of a local bicycle plan.