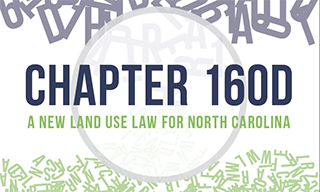 NORTH CAROLINA GENERAL STATUTES CHAPTER 160D UPDATES FOR LAND USE ORDINANCES
The North Carolina General Assembly consolidated the current city and county General Statutes legislation (Chapters 160A and 153A) that allows cities and counties to regulate development into a single unified chapter of 160D. Chapter 160D places these statutes into a more logical, coherent organization. Chapter 160D does not have any significant policy changes or shifts in the scope of authority granted to local governments. It does provide many clarifying and consensus reforms that will need to be included in local development ordinances.
Since July 2020, the Planning and Community Development Staff have been working to prepare all the affected Transylvania County Ordinances affected by the passing of the G.S. 160D chapter. The staff has been able to identify nine (9) ordinances that will need to be brought into compliance with the G.S. 160D. Some of the changes requested by NC G.S. 160D are not mandatory. Still, they have been recommended to be changed to ensure all that our ordinances are in complete compliance with 160D. Staff also took the time to make specific recommended changes that we consider non-controversial changes that help with the operational efficiency or more convenient for applicants.
Below are the approved updated Ordinances:
Please contact staff at pla[email protected] for questions or more information.