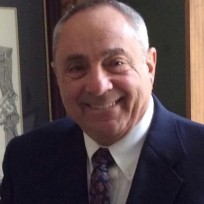 BIOGRAPHY
Emmett is serving his first term on the Board of County Commissioners. 
He is a graduate of Stowe High School, located in McKees Rocks, Pennsylvania, and a graduate of Salem College in Salem, West Virginia where he earned an athletic scholarship with a Bachelor of Science Degree in Physical Education and a Minor in Art. 
Emmett was married to Toni Casciato, who passed away in 2020. He is now married to Transylvania County native, Jayne Melton McCrary. They attend Anchor Baptist Church. 
His daughter, Abby, graduated from West Point and is married to Oliver Moore, also a West Point graduate. They both served in Afghanistan. Emmett has three grandchildren: Gabe, Alexandra, and Luci. 
Emmett taught school for 28 years as a Physical Education Teacher, Coach, and Athletic Director. He also owned and operated a home remodeling company. 
Emmett is the founder and curator of the Veteran's History Museum of the Carolinas in downtown Brevard. The museum is dedicated to honoring our veterans and their families throughout North and South Carolina and beyond. 
Q & A
Coming Soon