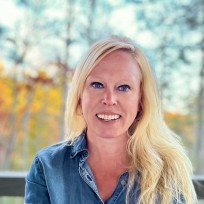 BIOGRAPHY
Addison Bradley has served as the County Extension Director since 2021, previously serving as the Livestock Extension Agent.  Prior to her position with Cooperative Extension, she acted as the Business Manager for Agricultural Operations at Berry College in Mount Berry, Georgia.
She attended Berry College for her undergraduate degree; then received her Master of Public Administration from Jacksonville State University, followed by her Master of Business Administration from Berry College.  Addison is a native of Transylvania County.  She and her husband, along with their children, reside in the Little River community. 
Q & A
Q: What are your job duties for Transylvania County? 

As the County Extension Directory, my major responsibility is to provide leadership for and coordinate the efforts of the county Extension staff in developing an effective total county Extension educational program.  This educational programming consists of family and consumer sciences, agriculture, and youth development.  My specialty is livestock; therefore, I assist local and regional livestock producers in improving animal welfare, increasing profits, and implementing best management practices.
Q: What makes Transylvania County so special to you?

Transylvania County is my home and has been home to my family for generations.
Q: In which ways do you hope to improve Transylvania County? 

I hope to improve the lives of the citizens of Transylvania County by offering research-based information and resources from North Carolina State University. 
Q: Do you have any favorite things that you like to do in Transylvania County? 

My family and I enjoy farming in Transylvania County; as well as hiking, kayaking, dining at the wonderful restaurants and exploring all the county has to offer.