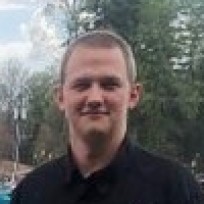 BIOGRAPHY
Cameron Sexton serves Transylvania County as the Communications Director and Deputy Director for Emergency Management. He is married with two children. Cameron began working for the county as an intern at 16 and has served in various roles including Telecommunicator, Technology Specialist, and Communications Manager. In addition to his full-time work for Transylvania County, Cameron spent many years volunteering for a local fire/rescue department, as well as working as a sworn law enforcement officer.
Cameron has a bachelor's in Emergency Management/Homeland Security from Waldorf University.
Q & A
Q: What are your job duties for Transylvania County? 
Oversees the daily functions of the 911 Center including all personnel and equipment.
Plans and assigns work.
Hires, trains, and provides performance coaching and evaluation for department personnel.
Develops work schedules & ensures communications center is always staffed.
Coordinates the provision of services and changes in service with law enforcement, fire, rescue, and EMS.
Develops and administers department budget; procures equipment and supplies.
Researches, plans, and coordinates installation & upgrades to equipment, including but not limited to, 911 systems, computer aided dispatch system, geographical information systems, county mobile cellular data devices, public safety radio systems, and other electronic systems.
Coordinates and participates in installation, maintenance and repair of all equipment at a technician level.
Coordinates the installation and maintenance of security and access control systems for all county facilities.
Establishes and promotes community awareness for effective use of emergency communications services such as 911.
Establishes and administers departmental policies and procedures; tracks statistical information, evaluates service delivery.
Serves as telecommunicator when needed.
Participates on various emergency planning efforts.
Leads the field communications team to respond to local and non-local requests for tactical communications support.
Serves as the Deputy Director for Emergency Management.
Q: What makes Transylvania County so special to you? 
I have lived in Transylvania County since I was about four years old. I loved growing up here, and being able to serve the community that I was raised in is special to me. I am raising my kids here and enjoy being able to help improve the quality of life that they will experience.
Q: In which ways do you hope to improve Transylvania County? 
I am always looking at ways to improve our capabilities and capacity to serve the residents and visitors of our county. Continuing to adopt the best possible technology at the most cost-effective point allows us to more quickly and efficiently respond to the needs of our community. This has been evident in some of our recent technology expansions with RapidSOS, Text-to-911, and ESInet NextGen 911.
Q: Do you have any favorite things that you like to do in Transylvania County? 
I love hiking and exploring the outdoors with my family. We have so much beauty around us that it becomes so easy to overlook. Getting out into the woods helps to disconnect from the busyness of life and truly appreciate what we have here in the mountains of Western North Carolina.