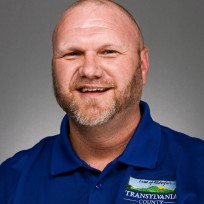 BIOGRAPHY
Chad Owenby is the current Operations Director for Transylvania County, having served in that role since July 2019.Prior to his role as the Operations Director, Chad spent 1 year as the Operations Support Manager and prior to that 18 years for the Parks and Recreation Department where he was a Program Director for 14 years and the Grounds Director for Transylvania County for 4 years.  Chad is a lifelong resident of Transylvania County, graduating from Brevard High School in 1994 and earning a Bachelor of Science Degree in Biology from Mars Hill College in 1999.  He also holds a North Carolina Certified Turfgrass Professional (NCCTP) certification from the Turfgrass Council of North Carolina as well as a National Certified Playground Safety Inspectors (CPSI) certification from the National Recreation and Parks Association.  Chad lives in Brevard with his wife Nicole.  They have been married for 18 years.
Q & A
Q: What are your job duties for Transylvania County? 
As the Operations Director, I am responsible for the day-to-day operations of the Maintenance, Grounds, and Housekeeping Departments.  It is my responsibility to prepare the budgets, provide staffing, and handle the day-to-day responsibilities of each department.  I also serve as the Safety Director for the County.  As the Safety Director, it is my responsibility to implement safety policies, ensure OSHA compliance, conduct accident investigation, and provide training for all employees to ensure a safe and professional environment.
Q: What makes Transylvania County so special to you?
I am a lifelong resident of Transylvania County.  I started working part-time for the County upon graduating high school and I currently have 21 years of service with Transylvania County.  Transylvania County is home to me, and I always knew I wanted to go to college and then come back to my hometown to live, work, and retire.
Q: In which ways do you hope to improve Transylvania County?
It has always been my goal to serve the citizens of this great area.  This county has given me many blessings and I wanted to serve in local government so that I could give back to my community.  When I do retire from Transylvania County, I want to be able to walk out and know that I gave my life and service to the great citizens of this amazing county.
Q: Do you have any favorite things that you like to do in Transylvania County?
As a graduate of Brevard High School and a lover of sports, I have been blessed to be a coach at my alma mater for 21 years.   Over the years, I have been a head basketball coach for 20 years, an assistant football coach for 10 years and a softball coach for 11 years.  Coaching is a passion of mine and I love to be able to influence and teach the young men and women in our community.