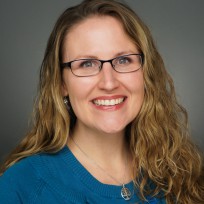 BIOGRAPHY
Jaime Laughter is the current Transylvania County Manager, having served in that role since September 2014. Prior to her service with Transylvania County, Jaime served 8 years as the Town Manager for the Town of Mills River and prior to that 4 years with the North Carolina Department of Transportation as a Community Planner and Transportation Engineer. She earned her Master of Public Administration from the North Carolina State University in 2004, building on a Baccalaureate Degree in Political Science from North Carolina State University. She also holds a certification from the American Institute of Certified Planners and is a Certified Manager under the International City County Manager Association (ICMA). She lives in Pisgah Forest with her husband and their three children.
Q & A
Q: What do you do and what are your job duties for Transylvania County?
As county manager, I am responsible for day to day operations of the county and for implementing the policies and direction set by the Board of Commissioners.  When commissioners are making decisions, it is my professional role to provide as much information and options to them as possible so that they can set policy and guide the future of the county.  My role is non-partisan and I am trained to serve my elected board based on the majority direction at any given time.  State statute includes many of the duties of the manager including supervision and personnel management of most county departments, budget preparation and administration of county government policies.  The profession has grown to require an understanding of the federal and state driven legal requirements of a diverse set of public service departments and to be able to take on facilitator roles as needed that position the county to be a collaborative community partner.
Q: What makes Transylvania County special to you? 
I am a product of Western North Carolina and have very deep roots here.  Transylvania County is special to me because it is a mixture of deep rooted heritage and Appalachian culture intermingled with a variety of other influences that have come to fall in love with this place.  I grew up exploring Pisgah National Forest and downtown Brevard.  After leaving the area for college, I knew quickly that I wanted to raise my family here and for my children to enjoy the high quality of life I did growing up.    We have access to a wide variety of outdoor activities, high quality environmental resources, educational opportunities and artistic appreciation all in a small town atmosphere where the sense of community becomes an extension of family.  I can't describe a better place to live and raise my family.
Q: In which ways do you hope to improve Transylvania County?
I chose a career in government service because I wanted to devote my life's work to making communities better places for the people who live there.  I hope that when my time is complete serving Transylvania County I will be able to see that the time I spent here has improved the lives of all citizens in meaningful ways.  I want to see our community be economically diverse so that we can weather national economic changes and to maintain a resilient community that continues to look forward to a bright and prosperous future.  I am fortunate to get to work on issues that affect people of all ages, but I am particularly drawn to improving the lives of children.  I truly believe that if a community is a great place to be a kid, it is likely a great place to be any age. 
Q: Do you have any favorite things that you like to do in Transylvania County?
Even before I worked here, I regularly brought my kids to enjoy hiking, fishing and tubing in the forest with a stop at one of the ice cream shops.  It remains one of my favorite things to do, but I also enjoy visiting the festivals downtown, going on a mountain bike ride or visiting one of the local restaurants with my husband.