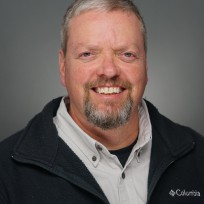 BIOGRAPHY
I am a native of Transylvania County, born in 1967 and have lived in the Cherryfield community my whole life. After graduating from Western Carolina University in 1990 with a BS in Natural Resources Management I worked briefly with the US Forest Service on the Highlands Ranger District before being hired by Transylvania County in Environmental Health (2 yrs.). I then spent 7 years as a Soil Conservationist with the Buncombe County Soil and Water Conservation District before coming back to Transylvania where I have worked as the Department Head for the Soil and Water Conservation District since 2000.
Q & A
Q: What are your job duties for Transylvania County? 
My role here is to oversee all the activities of the office including our Agriculture Cost Share Programs that assist landowners technically as well as financially with installation of Best Management Practices that improve water quality, enhance other natural resources and improve their overall agriculture operation. We also provide a quality Environmental Education Program for school age children to adults. I am in charge of removing debris jams from the French Broad River to allow safe navigation by paddlers and to reduce potential erosion of valuable agriculture soils along the French Broad River Valley. In addition, we provide quality agriculture equipment for rent to assist with agriculture sustainability here in the county. Some of the most popular pieces include the Conservation Seeder, Lime Spreader and Fence Post Driver.
Q: What makes Transylvania County so special to you? 
Transylvania County is special to me because it is my home. I live on our family farm where I grew up and am now raising my kids, where we enjoy hunting and riding ATV's. We also raise laying hens and beef as well as grow Fraser Fir Christmas Trees. It is simply special to get to live and work in such a beautiful place as Transylvania County.
Q: In which ways do you hope to improve Transylvania County? 
I hope to improve Transylvania County by helping continue its long history of productive agriculture through conservation assistance.