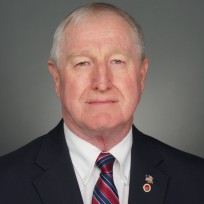 BIOGRAPHY
Larry is a native of Transylvania County and was first elected to the Board of Commissioners in November 2010 after his first run for political office.  He was reelected to his second term in November 2014.  In December 2016, Larry was elected by his fellow Commissioners to serve as Chairman of the Board of Commissioners.  He term limited himself and did not run for reelection in 2018. After two years he decided to reenter politics and ran for reelection in 2020 to the Board of County Commissions and was reelected. Larry is a graduate of Brevard High School and earned a Bachelor of Science degree from Western Carolina University. After graduation from Western Carolina, he entered the United States Marine Corps and upon completion of Officer Candidate School was commissioned a 2nd Lieutenant as an infantry officer. After completion of active duty, he returned to Transylvania County with his family. He remained in the US Marine Corps Reserves and retired as a Colonel after over 30 years total service.
Larry worked at the former Ecusta paper mill for over 27 years primarily in manufacturing supervision and marketing management. He traveled extensively around the world in support of the marketing and sales efforts for Ecusta. His main areas of responsibility were the Asia Pacific Area and Central and South America. Just prior to the closure of Ecusta he joined the delfortgroup which is Headquartered in Austria and has paper mills in various parts of the world. He is retired in 2017 as Vice President of Sales responsible for the sales of tobacco industry papers produced by delfortgroup and used by major tobacco companies in the US and Canada. 
Larry is married to the former Jill Sheridan and has 3 grown children and two grandchildren. His granddaughter attends Brevard High School and his grandson attends Brevard Elementary School. He is involved with a number of veteran's organizations and civic groups. His wife Jill is involved with numerous local historical societies, DAR, Colonial Dames and is Chairperson of the Transylvania County Abandoned Cemeteries Board. She was just elected as North Carolina State Governor of the Society of Mayflower Descendants. He and his wife attend the First United Methodist Church in Brevard.
Q & A
Q: What makes Transylvania County so special to you? 
As a native of Transylvania County this is home to me and my family, I raised my three children here, it is very safe, clean and friendly community with citizens always willing to help each other when needed. It is a community that offers many cultural, recreational and educational opportunities for our citizens. Also it is a place where most people get along well with their neighbors and can enjoy the peace and comfort of a small community.
Q: In which ways do you hope to improve Transylvania County? 
As a Commissioner it is always important to try to balance the need for growth and economic development while maintaining our small town appeal. Our natural beauty and environment provide opportunities for increased tourism, appeal for small businesses to locate here and also attraction for people who work from home and eventually retire here.