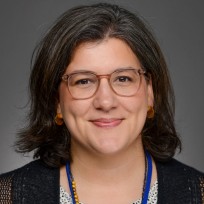 BIOGRAPHY
Finsel was raised in Bat Cave, NC. She attended Berea College where she received her
undergraduate degree in Art and Industrial Technology Management, and UNC Greensboro
where she received her Master's in Library and Information Science. Most recently Rishara
served as the Director of the Polk County Public Library and she previously worked as the
Senior Librarian for Public Services at the Flathead County Library System/ImagineIF Libraries
in western Montana.
In February, the County engaged Bradbury-Miller Associates to assist with a nationwide
professional search for the Library Director position. The County Manager formed a search
committee to work together in the candidate selection process. The search committee included
representatives of the Library Foundation, Friends of the Library, County Manager and County
staff. "We are excited to have Rishara joining our Management Team as the Library Director.
She brings a strong background in Public Library services and has demonstrated a commitment
to provide the best of library services to the public", said Jaime Laughter, County Manager.
"Transylvania County is a special place, and that is reflected in its public library. I am
honored to join such a strong staff and supportive library community", said Finsel. "I look
forward to working together to serve the people of Transylvania County."
Q & A
Q: What are your job duties for Transylvania County? 
Provide excellent public library service to citizens of Transylvania County.
Q: What makes Transylvania County so special to you? 
The locale and the people Transylvania County is a special place blessed with beautiful natural resources and wonderful people.
Q: In which ways do you hope to improve Transylvania County? 
The Transylvania County Library is a trusted community resource and an essential platform for learning, creativity and innovation in the community. By connecting people to the world we help to create a more vibrant, engaged community for today and tomorrow.
Q: Do you have any favorite things that you like to do in Transylvania County? 
Hike !!!