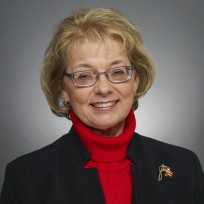 BIOGRAPHY
Teresa McCall is life-long, eighth generation resident of Transylvania County.  She and her husband Scott have been married 38 years and have two adult children, Stephanie and Casey (married to Brittany), as well as two adorable grandchildren, Allie and Grayson. 
 Teresa graduated from Brevard High School in 1973 and later earned an Associate's Degree in Business Administration from Blue Ridge Community College. 
In 1982, she began what would become a 37-year career with the National Park Service, starting the journey as a part-time administrative clerk for the Blue Ridge Parkway.  Teresa retired in 2019 as Chief of Administration for the Blue Ridge Parkway, one of the largest units in the National Park Service which spans 470 miles of roadway traversing through two states (North Carolina and Virginia) and twenty-eight counties.   Teresa was responsible for providing direction, oversight and supervision of broad spectrum of administrative and business requirements including fiscal management and contract management.  In 2013 Teresa was named Employee of the Year for the Blue Ridge Parkway following implementation of a new financial system.  
In 1996 Teresa was first elected by the residents of Transylvania County to serve on the Board of Education.  She was elected and served two additional terms, serving Transylvania County for twelve years.  Teresa was named Vice-Chair for 1998-2000 and Chairwoman of the Board from 2003-2008. Following her tenure on the Board of Education, she was appointed by the Transylvania County Board of Commissioners to serve a four-year term as a trustee for Blue Ridge Community College. 
In 2019, Teresa announced her candidacy for the Transylvania County Commissioner with a platform promising conservative oversight of the County Budget, a commitment to work to provide meaningful economic development opportunities, and a commitment to work for protection of personal property rights, freedoms and individual liberties, as ensured by the U.S. Constitution.    Teresa won election to the County Commission in November 2020.
With over half a century of proven elected and public service experience to her credit, Teresa brings a wealth of knowledge, expertise, and renewed sense of energy and commitment to the Board of Commissioners.  She feels honored and looks forward to serving the residents of Transylvania County in the years ahead.
Q & A
Q: What are your job duties for Transylvania County? 
 
Q: What makes Transylvania County so special to you? 
 
Q: In which ways do you hope to improve Transylvania County? 
 
Q: Do you have any favorite things that you like to do in Transylvania County?