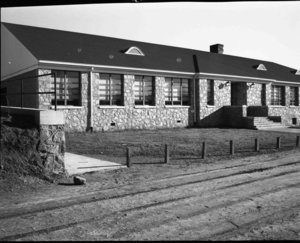 ROSENWALD SCHOOL / MORRIS EDUCATION CENTER
400 Rosenwald Lane, Brevard
Image courtesy of the Rowell Bosse North Carolina Room, Transylvania County Library
Around 1923, a school for African American children was built near the intersection of West Main Street and Rosenwald Lane.  Money for the school came from the Rosenwald Fund, which helped finance schools for black children in fifteen Southern states from the late 1910's until 1932.  On March 12, 1941, the Rosenwald School was destroyed by fire. Until the present building was constructed in 1948, students attended makeshift classrooms in local churches. The new building had six classrooms, a cafeteria, an office, indoor plumbing, and fluorescent lighting. After eighth grade, students traveled to Hendersonville to continue their education until the Transylvania County schools were integrated in 1966.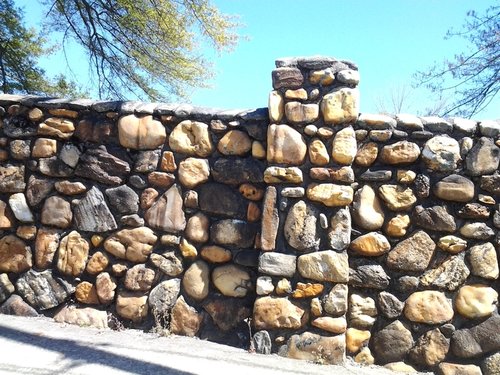 BREVARD COLLEGE STONE FENCE & GATE
400 - 600 North Broad Street, Brevard
The stone fence and gate comprise the earliest structure erected specifically for Brevard College that survives to the present.  Stone was gathered from the Davidson River in the Pisgah National Forest for stonemasons Fred Mills and the Wright Brothers, to construct in 1937.  This section of remaining stone fence once was part of the athletic field.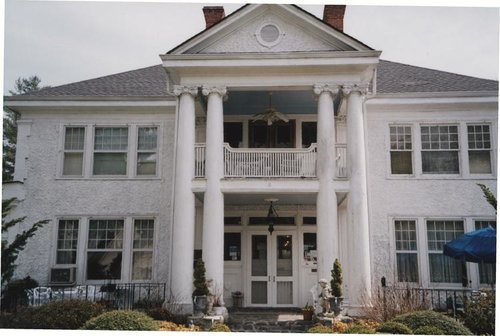 INN AT BREVARD
401 East Main Street, Brevard
Image courtesy of the Rowell Bosse North Carolina Room, Transylvania County Library
The original 2 1/3 acre lot was originally contiguous to the Franklin Hotel property and was part of an exclusive development known as Franklin Park.  Soon after purchasing in 1901 for $1,000, Martha Woodbridge built the neo-classical revival structure which she shared with her daughter, Rebekah, and son-in-law, William E Breese, Jr., who was a man of public affairs in the community. Now, the Inn at Brevard serves as an inn.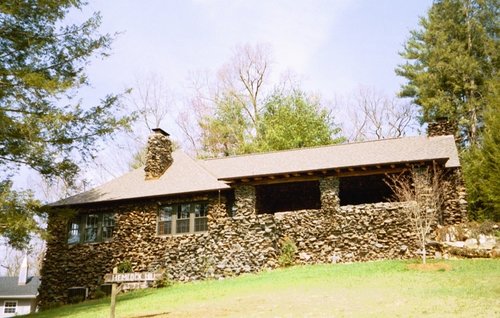 HEMLOCK HILL / BROMBACHER HOUSE
571 East Main Street, Brevard
This most unusual of Brevard's stone houses was built as a summer home around 1940.  The stonemasons were Brevard's noted Wright brothers who started the house in their typical style. Mrs. Brombacher made them tear it down and start over again, declaring that she wanted the house to "look like it grew here" with no mortar showing and no square corners.  The result was an Adirondack-type structure where the dark, jagged-edged stones appear to be randomly, vertically stacked without visible mortar.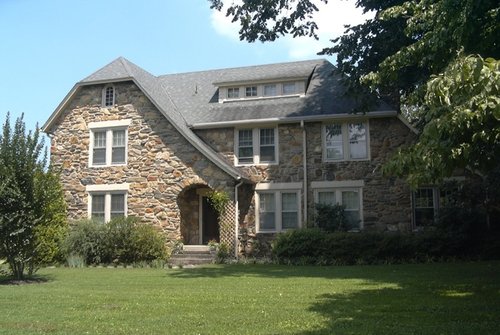 GODFREY-BARNETTE HOUSE / LINDEN TREE MANOR
411 South Broad Street, Brevard
Erected around 1918, this two and one-half story house is the second oldest stone house in Brevard.  Local tradition relates that students at Brevard High School helped gather stone for the construction of the house that was built for a popular teacher, Mrs. Jennie E. Godfrey.  This house was built by the time the Wrights moved to Brevard to ply their trade and the stonemason(s) remain unknown.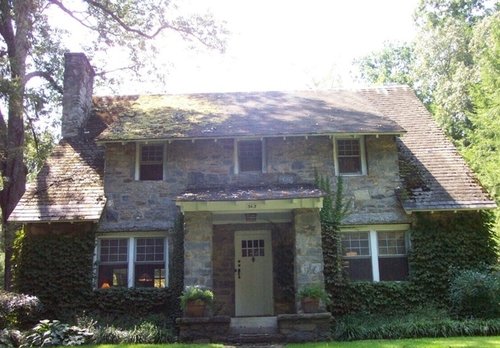 MORROW STONE COTTAGE
563 East Main Street, Brevard
Built in 1915, using the plans purchased from Gustav Stickley's June 1909 issue of The Craftsman magazine, the house is built with load-bearing masonry on the first story.  The stone was procured from the remains of the old Hume Hotel, located in the Dunn's Rock vicinity, which burned during the Civil War.  The Hume Hotel was the earliest known stone building in Transylvania County, and it is significant that its materials were reused for the oldest surviving stone house in the county.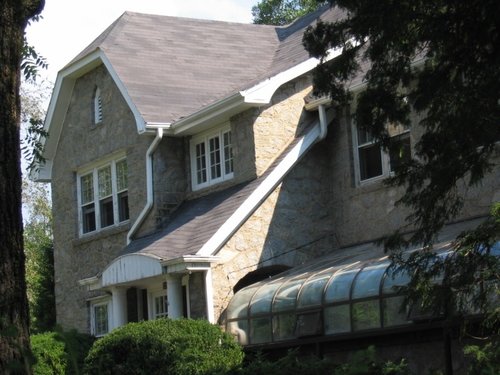 CHARLES ORR HOUSE
334 East Main Street, Brevard
Charles Edmond Orr, the original owner of this 1926 English Manorial Revival house, was postmaster of Brevard.  The gray granite used came from William Breese's Cove Mill Quarry.  The Wright brothers may have been the stone masons for this house.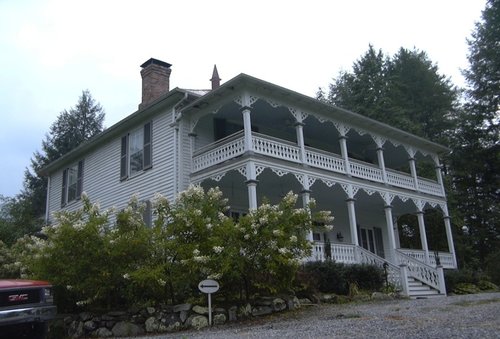 CHESTNUT HILL, HANCKEL-BARCLAY HOUSE
400 Barclay Road, Rural Transylvania County
This impressive country home built between 1856 and 1860 was that of the Reverend James Stuart Hanckel.  It sits atop a hill overlooking the French Broad River Valley.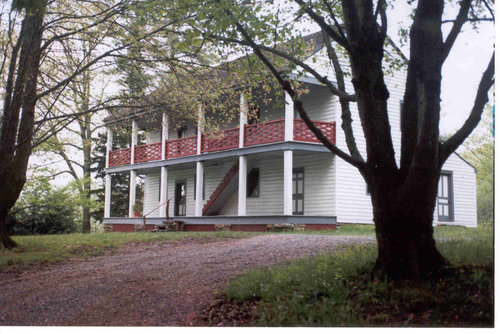 ALLISON-DEAVOR HOUSE
2753 Ashville Highway, Brevard
Listed in the National Register of Historic Places, the William Deavor House, circa 1815, is one of the oldest surviving houses in Transylvania County and is a significant example of a substantial Western North Carolina farm dwelling from the second quarter of the nineteenth century.  In 1987, the Transylvania Historical Society obtained the property. It hosts tours throughout the year.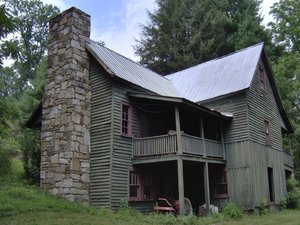 SURRETTE LANKFORD HOUSE
1109 Old Hendersonville Highway, Rural Transylvania County
This 1835 frame farmhouse built by David Surrette is the third oldest standing frame house in Transylvania County.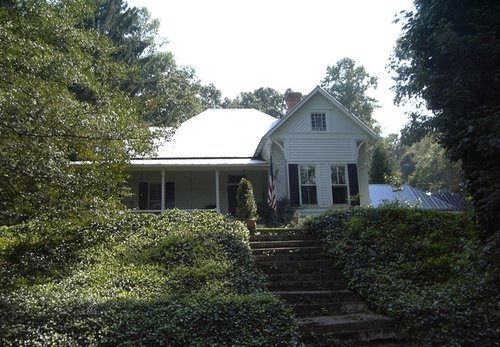 PARTRIDGE HILL
261 Everett Road, Rural Transylvania County
This Queen Anne style white frame house was built in 1901 by one of the Patton families.  Hamilton Basso, author of The View From Pompey's Head, lived here in the 1930's and was often visited by Thomas Wolfe.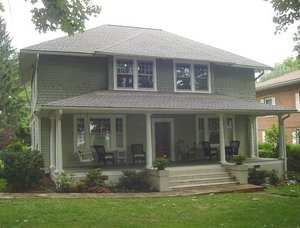 FORMER PRESBYTERIAN CHURCH MANSE
116 West Probart Street, Brevard
This 1916 Craftsman style dwelling served as the Presbyterian Church Manse from 1916-1937.  The architect was Asheville's Richard Sharp Smith.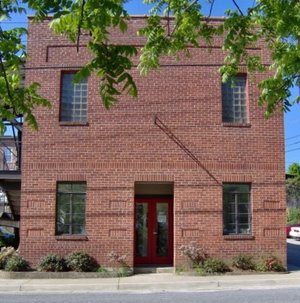 EXCHANGE BUILDING
33 West Probart Street, Brevard
This structure, in the National Register Main Street Historic District, was built in 1952 to house automated telephone switching equipment allowing residents to have a phone number for the first time.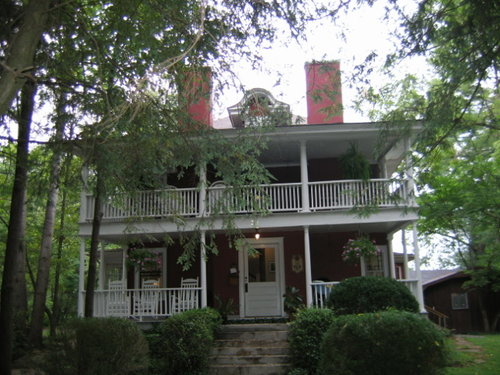 RED HOUSE
266 West Probart Street, Brevard
This house was built in 1851 as a trading post for Leander Sams Gash, one of the City of Brevard's founders. During the Civil War, trade with Charleston nearly ceased and the trading post became the Moore Hotel starting in 1861. It later served as a boarding house to serve Low Country visitors.  In 1896, the building was rented to the Fitch Taylors who used it as a mission school known as the Epworth Institute, the forerunner of the Brevard Institute (later Brevard College).  After the institute moved to the site of the present Brevard College, the Red House continued to function as a private school run by a Miss Stancil.  In 1912, the house was remodeled as two apartments.  Now known as the Red House Inn, it is a bed and breakfast.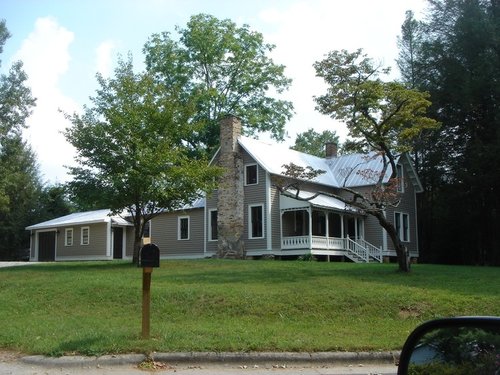 GROGAN HOUSE
24 Warren Lane, Brevard
This 1890 pre-railroad frame dwelling with Victorian Style decorative details is listed on the National Register of Historic Homes.  It is typical of the late 19th century French Broad Valley farmhouses and was part of an active 80 acre farm from 1890-1941.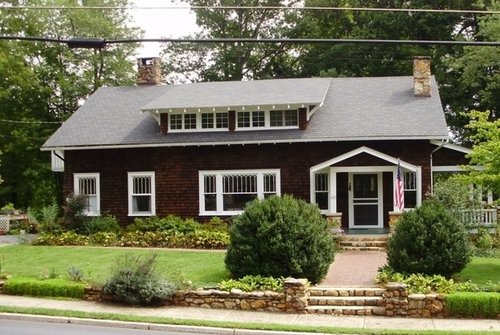 CHAPMAN HOUSE
431 East Main Street, Brevard
This Craftsman style bungalow was built in 1917 as the retirement home for Chalmers Durand Chapman, the rector of St. Philip's Episcopal Church from 1896 to 1917.  Chapman's wife, Frances Eugenia, was the first president of the Brevard Betterment Association and was instrumental in establishing the first Parent-Teacher Association in Transylvania County.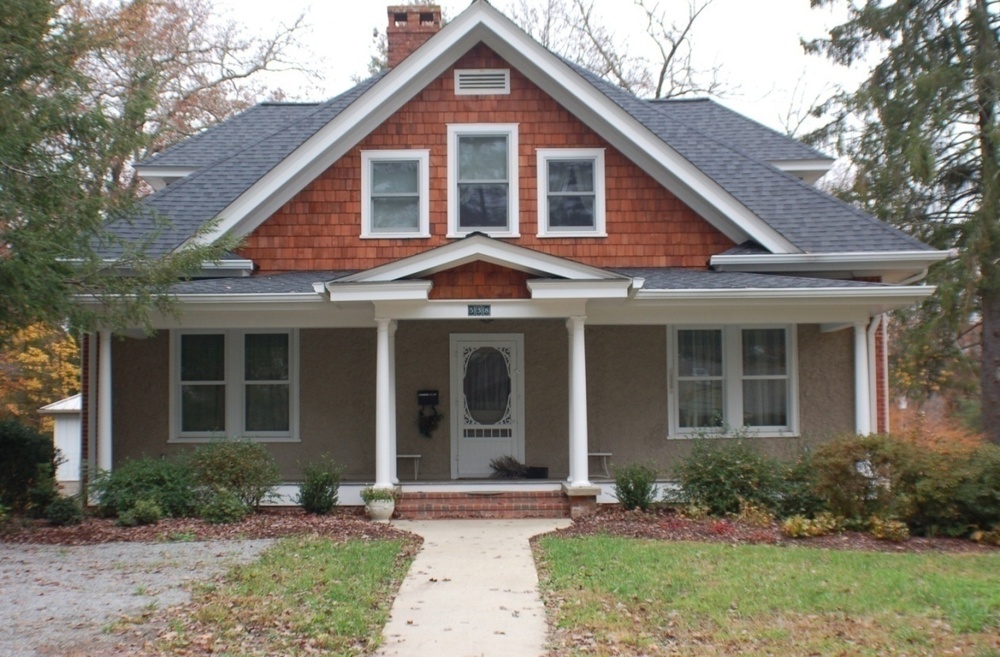 CLEVELAND-KIZER HOUSE
538 East Main Street, Brevard
Built around 1910, this was home to Alec Kizer who was the county accountant during the 1920's and exemplifies a group of houses built in and around Brevard that are distinguished by their pebbledash walls and contrasting brick corners.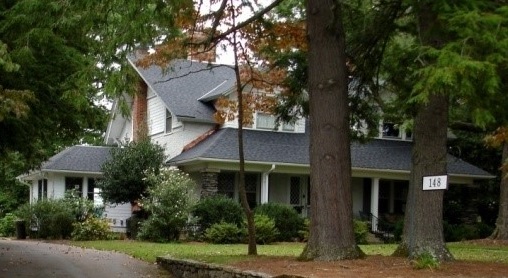 HENRY HOUSE
148 West Probart Street, Brevard
This 1904 Craftsman style dwelling was designed by Asheville architect, Richard Sharp Smith and built by R.P. Kilpatrick who constructed many of the houses on Probart Street. It is distinguished by a variety of building materials, diamond-paned windows and wide overhanging roof eaves.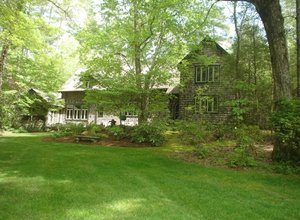 THE LODGE
450 Cedar Lane, Cedar Mountain Vicinity
This structure was built in the 1920's or 1930's by Ted Snyder who was a self-taught contractor who designed and built many of the summer homes around Cedar Mountain when the textile mills in South Carolina began establishing camps for their employees.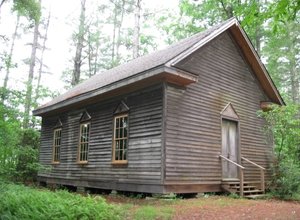 MCGAHA CHAPEL
8225 Greenville Highway, Rural Transylvania County
Crafford McGaha built this chapel in 1872 and operated a free way station for travelers passing through Cedar Mountain on their way between Brevard and Greenville.  The property was conveyed by A. J. Loftis and his wife to the trustees of the Methodist Episcopal Church and was turned over to the Transylvania Historical Society in 2007.  Although there is no active congregation, vesper services are held during the summer.  This pristine chapel remains essentially as it was in 1872 and can be viewed by appointment with the historical society.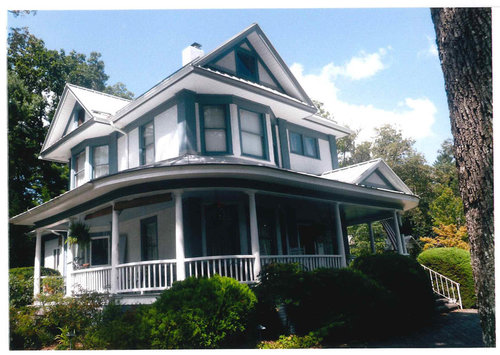 GALLOWAY-RADFORD HOUSE
33 Deacon Lane, Brevard
Built by Thomas C. and Mary Belle Galloway between 1905 and 1910, the house is an excellent example of late-Victorian/Queen Anne form with Colonial Revival detailing, typical of early twentieth century houses in the Brevard area.  After Thomas C. Galloway's death, his wife Mary Belle and her new husband, Samuel Radford lived in the house and kept boarders.  After Mr. Samuel Radford's death the house was sold to Mr. Henry who was the Town Manager of Brevard.